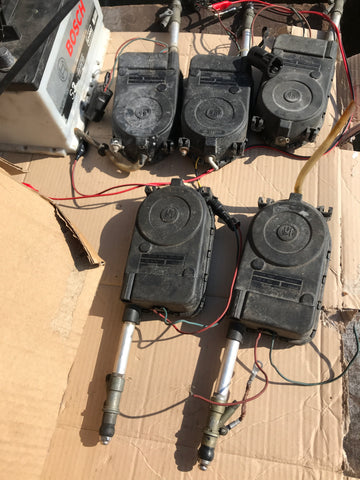 REFURBISHING SERVICE Jaguar XJ40 electric Aerial Antenna Hirschmann DBC5554 DBC5101 DBC1868
REFURBISHING SERVICE/ EXCHANGE PART.
YOU NEED TO SEND ME YOUR FAILED ORIGINAL ANTENNA FIRST, THEN I CAN SEND YOU A REFURBISHED UNIT. 6 Month warranty. 

Exchange part. I need your faulty part sending to me in exchange, before I send out the replacement. Once you order, I will send you the address to return the exchange part. Please don't send it to the address you see online here. 
Please note, in some extreme cases, your unit may be deemed beyond economical repair. This can be from water damage typically. If this is deemed the case, I will contact you to discuss options/ offer a refund. 
When I repair these, the spares used will typically be good quality aftermarket parts, or sometimes good used original parts. 
If the electrical connector plug has been cut off your unit (I do see this often!), it's not always possible for me to replace that. As stocks on those are short currently. If in doubt, please ask. 
REFURBISHED Jaguar XJ40 electric Aerial Antenna Hirschmann
DBC5554
DBC5101
DBC1868
suitable for 86-93 model XJ40. (If your XJ40 is a 1994, you need the Harada unit, not this one. Available on another page on here- please search). 
When ordering, please confirm your VIN, as there are two different possible plugs used depending. Then I can fit the correct plug for your vehicle.,
---
We Also Recommend